Arbitration: A Better Way to Resolve Intellectual Property and Technology Disputes?
October 28, 2019
Seoul, South Korea
The Korean Commercial Arbitration Board INTERNATIONAL and Silicon Valley Arbitration & Mediation Center are co-hosting this program.
This program includes four panels which cover a variety of IP and Tech topics.
Panel 1: Arbitrating IP and Tech Disputes: Advantages and Innovative Approaches
Panel 2: Arbitrating IP and Tech Disputes: Regional Challenges and Alternatives
Panel 3: Common Tech/ IP Licensing Disputes
Panel 4: Enforcing Arbitral Awards In Cross-Border IP and Tech Disputes
For a full list of speakers, click here. For a full list of sponsors and supporting organizations, click here.
ITechLaw- 2019 European Conference
October 30- November 1, 2019
Dublin, Ireland

Topics for the 2019 European Conference include:
Artificial Intelligence, Blockchain, Data Protection, Legal Tech, FinTech, Trends in Technology Sourcing, Cybersecurity, Government Cybersecurity, IP Dispute Resolution, eSports/gaming, eMobility, Government Agencies Access to Data, Digital Transformation, Export Control
Miami International Tech/IP Arbitration Seminar
Arbitrating Tech & IP Cases: Latin American and European Approaches
November 13, 2019
Miami, FL

You can RSVP here.
Brain Teasers in International IP Arbitration
November 19, 2019
New York, New York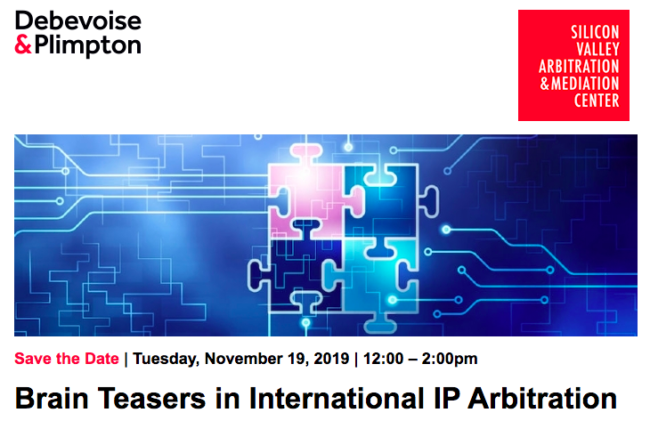 Leading international arbitrators William Baker, Sonia Farber, Thomas Halket, Ina Popova and Joseph Zammit will discuss cutting edge issues in IP arbitration relating to (1) arbitration of patent validity (including choice of law issues); (2) strategies for obtaining preliminary relief; (3) enforcement of injunctive relief; and (4) attorney/patent agent/client privilege – with introductory remarks by SVAMC's CEO Les Schiefelbein.
SVAMC Annual Board Meeting
November 19, 2019
New York City, NY, USA

SVAMC will be holding its Annual Board Meeting on Tuesday, November 19 in conjunction with NY arbitration week.
Drinks- and Data and Cybersecurity

When?
Tuesday, January 14th, 2020 from 5:00-8:00 pm
Who?
Gary Benton, Chairman, Silicon Valley Arbitration and Mediation Center
Hugh Carlson, Managing Director at Three Crowns LLP
Maria Chedid, International Arbitration Partner at Arnold & Porter Kaye Scholer LLP*
Hagit Elul, Partner and Co-Chair of Arbitration at Hughes Hubbard & Reed LLP
Lea Haber Kuck, Partner at Skadden, Arps, Slate, Meagher & Flom LLP
Brandon Malone, Principal of Bandon Malone & Company, Scottish Arbitration Centre*
Mark Morril, Independent Arbitrator and Mediator at MorrilADR*
Kathleen Paisley, Partner at AMBOS NBGO
Les Schiefelbein, Independent Arbitrator at Schiefelbein Global Dispute Resolution*
Allen Waxman, CEO and President at the International Institute for Conflict Prevention and Resolution
*SVAMC Member
Where?
San Francisco- location to be announced
The ICCA-IBA Joint Task Force on Data Protection in Arbitration Proceedings has produced a Roadmap to assist the arbitration community in applying the data protection rules including GDPR to arbitration proceedings. Find out how data protection and cybersecurity could impact arbitration proceedings and how best to practically manage these issues during the arbitration process.
Save the date. We hope to see you there!
Stanford University/SVAMC Advanced Patent and Technology Mediation and Arbitration Course
February 11-12, 2020
Stanford Law School
Palo Alto, CA

A two-day comprehensive advocacy training course on patent and technology arbitration and mediation for litigation counsel. This course features lecture and interactive segments and is designed for experienced lawyers.
Participants completing the course will receive a Stanford Law School course certificate. CLE credit pending approval.
This course is designed to provide experienced counsel legal knowledge and practical expertise in technology and patent alternative dispute resolution. It covers pre-filing considerations, pleading, selecting arbitrators and challenges, jurisdiction, how best to present a patent technology case in arbitration and mediation, international arbitration, post-award enforcement and challenges, and ethics.
Course materials, including case books, will be provided.
13th Annual Arbitration Training Institute: A Comprehensive Training in Advanced Arbitration Skills
March 9-10, 2020
Sandra Day O'Connor College of Law
Phoenix, AZ, USA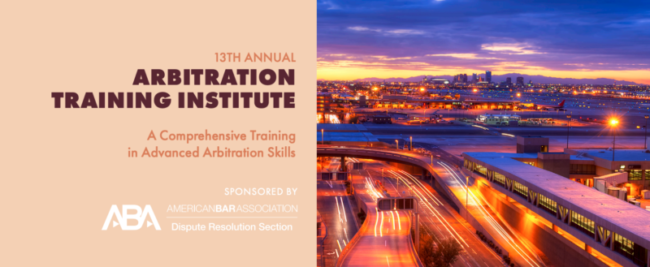 SVAMC is a cooperating organization for the 13th Annual Arbitration Training Institute in Phoenix, Arizona on March 9-10, 2020.
As a member of a cooperating organization, SVAMC members are eligible for the lowest registration rate. When registering, select "Cooperating Organization Member" in the pricing dropdown. 
SVAMC member speakers include: Gary Benton, Barbara Reeves, Harrie Samaras, Lester Schiefelbein, and program co-organizer Dana Welch.
THE TOP SIX REASONS TO ATTEND the ABA Section of Dispute Resolution's 13th Annual Arbitration Training Institute on March 9-10, 2020.  
It's being taught by over 20 of the leading arbitrators and arbitration advocates in the country.

It will teach new arbitrators the skills needed to become good arbitrators and experienced arbitrators will learn how to become great arbitrators.

It will teach new arbitration advocates how to become good advocates and experienced advocates how to become great ones.  

It's being held in Phoenix in March!!  Warm weather! Spring training!

It includes small group sessions with successful arbitrators on how to market and increase your arbitration business.

Did we mention the course is in Phoenix in March?