Who's Who Legal Future Leaders: Arbitration Conference USA
November 14, 2019
Washington, D.C., USA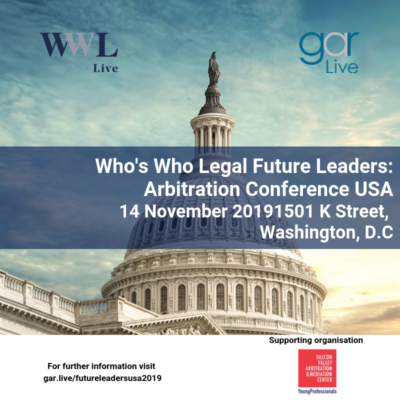 For more info: gar.live/futureleadersusa2019
Save the date!
Opportunities and Perspectives:  How Young Professionals Can and Will Shape ADR
August 29, 2019
Palo Alto, CA, USA
This complimentary event jointly sponsored by the American Arbitration Association (AAA) and JAMS will address arbitration and mediation practices, ways to get involved with ADR young professional groups, and strategies for serving as counsel on arbitration and mediation cases. Topics include consideration of court vs. arbitration procedures, including benefits and disadvantages, comparison of mediation and arbitration in the dispute resolution process, review of state and federal ADR statutes and contrast and comparison of the different types of arbitration (commercial, employment, construction, international, etc.) and the rules that apply, review of leading ADR provider rules and processes and a discussion of legal issues addressed by ADR in the technology field.
2nd Annual Who's Who Legal Future Leaders: Arbitration Conference
June 26, 2019
London, England
SVAMC-YP is proud to support the 2nd Annual Who's Who Legal Future Leaders: Arbitration Conference. This will future a GAR live debate, alongside a panel discussion in which speakers will explore what lies in the future for the world of international arbitration.
Paris Arbitration Week 2019
International Arbitration in a Not-so-Distant Future: What AI and Blockchain Can Bring to the Field
April 5, 2019
Paris, France
As part of the Paris Arbitration Week 2019, SVAMC-YP participated with Hogan Lovells in roundtable discussion on Artificial Intelligence, Blockchain, Smarts contracts. Diana Bowman, Legal Manager, VINCI Energies and member of the SVAMC-YP Steering Committee took part.
TechArb and ArbTech
Arbitrating technology-related disputes and the use of technology in arbitral proceedings
October 18, 2018
London, England
The LCIA Young International Arbitration Group (YIAG), the Silicon Valley Arbitration and Mediation Center young professionals group (SVAMC-YP) and Young Arbitral Women Practitioners (YAWP) are pleased to invite you to their joint "TechArb and ArbTech" event on 18 October 2018 in London.
The conference will take place at Techspace in Shoreditch from 3 pm to 7 pm, followed by drinks. The first panel will discuss issues specific to the arbitration of technology-related disputes. The second panel will focus on the use of technology in the arbitral process and the impact of emerging technologies on arbitration as an industry.
Speakers with hands-on experience of their respective topics will share practical and innovative insights and participants will be encouraged to contribute to the discussion in interactive sessions.
DAA Dutch Arbitration Day 2018
"Technology and Innovation in International Arbitration"
October 18, 2018
The Hermitage Museum, Amsterdam, The Netherlands
Presented by The Dutch Arbitration Association, this program will look at the impact of Artificial Intelligence, e-discovery, document automation, legal design, arbitrator intelligence and more. What lies ahead of us? Will new technologies disrupt or enhance the arbitral process? How can we benefit from technology and innovation to make arbitration more efficient, more transparent and less costly? What are the risks and challenges for arbitrators, practitioners and institutes?
July, 2018
Paris, France
SVAMC-YP, in partnership with the London Court of International Arbitration's Young International Arbitration Group (LCIA YIAG), is hosting an event in Paris.
May 2, 2018
San Francisco, CA
ICC YAF: A Beginner's Guide to Meditation
The ICC Young Arbitrators Forum (ICC YAF) is organizing a complimentary breakfast panel to discuss the powerful role of mediation as an (underutilized) dispute settlement tool. Issues to be discussed include step-clauses, choosing mediators, differences between mediation and arbitration, and the advantages and disadvantages of mediation compared to arbitration.
The ICC YAF Conference will be an ideal forum for young practitioners to exchange thoughts on international arbitration and international dispute settlement, and to enrich their network in the region.
April 10, 2018
Cambridge, MA
12pm – 1:15pm (lunch provided)
Join SVAMC-YP at Harvard Law School, for a lunchtime panel discussion of leaders in the technology and dispute resolution spaces focusing on what the future may hold for emerging technologies and dispute resolution.
Moderated by SVAMC-YP Steering Committee Member David Earnest.
March 22, 2018
Webinar
9:30 AM in Pacific Time (US and Canada)
Join the Silicon Valley Arbitration and Mediation Center's Young Professionals for a one hour interactive webinar as we explore this question and others that may arise as artificial intelligence becomes integrated in the practice of international arbitration. Webinar host: Amy Endicott.
March 14, 2018
Los Angeles, CA
1:30pm
Hosted by ICCA The event featured SVAMC-YP Steering Committee member Amy Endicott and SVAMC Tech List Appointees Maria Chedid and Gary Benton. Developing an International Arbitration Practice in California
March 6, 2018
Washington DC
6:30pm
SABA-DC, Georgetown University Law Center's SALSA, and the Silicon Valley Arbitration and Mediation Center Young Professionals have assembled a panel of distinguished speakers to discuss some of those challenges and opportunities on Cryptocurrency's Legal Revolution: Opportunities and Challenges that Cryptocurrency and Block-Chain Technology Create for Criminal Enforcement.