ABA 2023 International Arbitration Skills Masterclass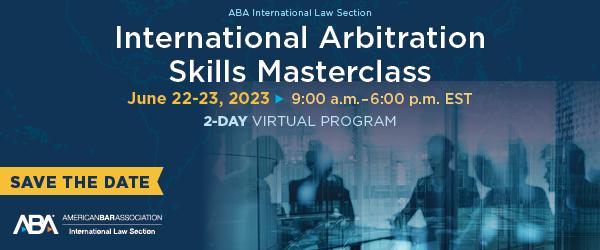 The ABA International Law Section is holding the third annual International Arbitration Skills Masterclass: a two-day hands-on virtual training program, delivered by some of the world's best international arbitration lawyers.
The Masterclass, which is aimed primarily at junior to mid-level practitioners, will comprise a mixture of panel discussions and practice sessions, covering all aspects of an arbitral hearing (opening statements, examination of witnesses, examination of experts, and closing statements).
World-leading international arbitration practitioners and arbitrators will share their experiences and advice on how to deliver powerful oral submissions and effectively examine witnesses. There will also be a session on top tips for making an impact in a hearing.
After each panel discussion, the participants will have an opportunity to develop their advocacy and witness-examination skills through practice sessions in groups of four participants. Each practice session will be supervised by an experienced faculty member, who will provide participants with tailored feedback.
Following the success of the 2021 and 2022 editions of the Masterclass, the 2023 edition will include a mock arbitral hearing demonstration, which will see two leading practitioners demonstrate a variety of strategies and techniques by cross-examining experienced experts.
The event will also provide an excellent networking opportunity, including through a virtual networking event.The SVAMC is happy to serve as a Supporting Organization of the 2023 Masterclass.
While the standard registration cost is USD 400, the SVAMC is happy to share our discount code lowering the cost to USD 275 for our network. Please contact us for further details.
Date & Time
June 22, 2023 – June 23, 2023